Date:        8 October 2023
Hare:        Master Bates & Mother Brown
Venue:     The Pelican, Addlestone
On On:     The Pelican, Addlestone
  Hash scribes are told "Don't split hares", so let us exhaust adverse comments at once and then dwell on today's beauties.  There was far too much tarmac (fortunately Uncle Gerry chose to turn up but not run the trail); the blobs were too far apart, and virtually every check was a back check.  This said, there was much to enjoy.  Cox's Mill Pond is of rare beauty, we had the Wey Navigation, and even a riparian sip-stop with a deceptive punch to savour, in cheerful autumn sunshine.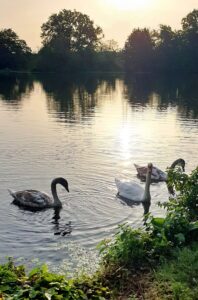 For reasons best known to RHUM, only Master Bates was at first called in for a down-down, though Mother Brown set the trail with him, and became Checking Chicken.  Not that he could remember every check: "I know we turned left here, but I don't know just where". 
One check was impossible: the solution could only be found by venturing into a car-wash and discovering a path concealed behind it.  Naturally no-one did this, so we had to be told.
  We were not numerous: just over 20, and that count includes non-runners.  Well, the only one really running was Lady Chatterley; a fast walk was all the rest of us could offer.  Master Bates had seen me find flour near where I parked, and said "That's the On In!", which was true, but it was also the solution to the first check, a back-check like all the others.  (We usually associate this with Tequil'Over).  We crossed railways several times; perhaps not always the same railway?  The trail certainly showed that there is scenery round Addlestone, even without venturing off to Weybridge, as Wally asserted he had done.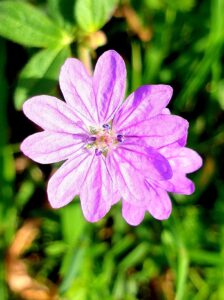 Northern Surrey is too built up to be suitable for Surrey hash trails, however attractive in places.  Yes, of course, some hashes, with London as the obvious example, do accept pavement-bashing as part of hash life; I joined Surrey to escape into greenery and Mother Nature. 
  Raffles had covered himself in gunge before our sip-stop, so Petal hoped to use a hose connected to a pump in the canal; but the cover to the electrics was on the hare's to-do list, and J. Arthur found himself holding it in place.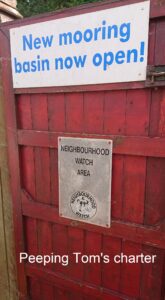 Our drinks at the end were outside the Pelican; there was an attractive green plot on the canal bank, but we were denied its use by a barge owner, claiming the area to be private.  So we settled for the industrial estate.  We had very few officials; however, Popeye was there to fulfil his role as RA; he had as usual made his own way round the trail, arriving at the sip-stop as we began leaving.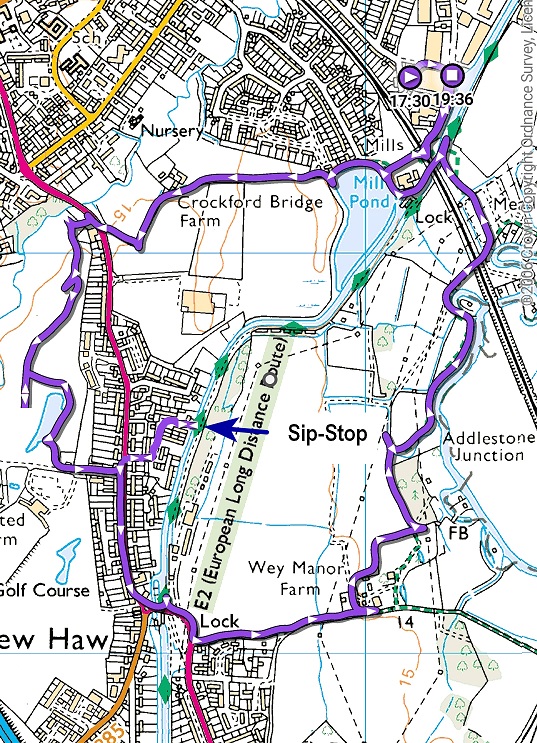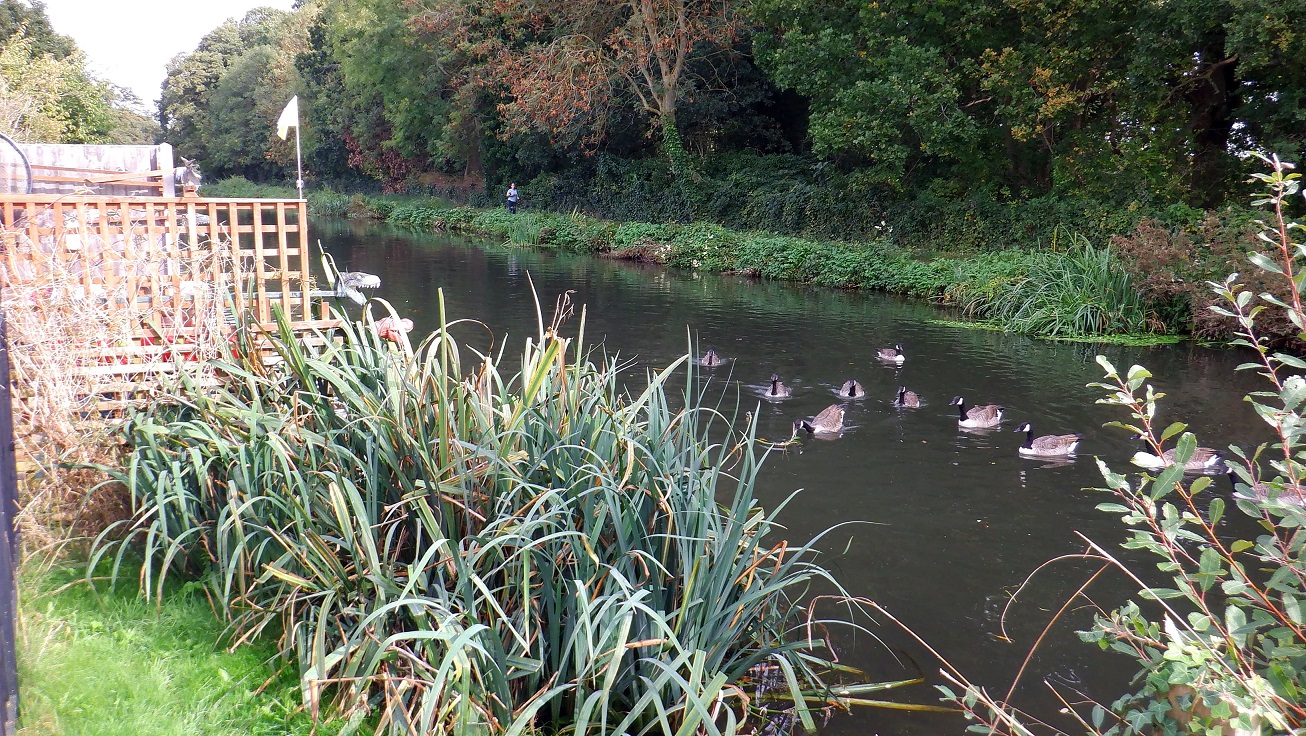 The news from Gaza will have horrified you.  It is very difficult to comment mildly on those ruling in Israel, Gaza, or the West Bank.  Hamas make no bones about being terrorists; the administration of Mahmoud Abbas is corrupt and unhelpful to the Palestinians they are meant to represent, and as for Netanyahu….  There is a political solution to all this; unfortunately no one on the ground would see it as acceptable, namely a one nation state, with all Palestinians accepted as citizens alongside the Israelis.  Did you know that in the US it is forbidden to publish maps showing Israeli settlements on the West Bank? They are now so many that no two-state solution could even be contemplated; and in any case the extremists now in power in Israel are already saying that non-Jewish citizens should not have the same rights or status.

  On On, FRB
Jerusalem or Where there is a Wey there's a way!
  We flew from last week's Parrot (whose a pretty hasher then?) to the redoubtable big mouthed Pelican.

This lies in the lee of the dark satanic mills and we feared that this did not bode well. However, it seems that Basta Mates had virtually contracted Knees Up to do the trail and he, Masturbates disappeared soon after the start.
  FRB led out the pack followed by Cheating again claiming it went west when it went east, followed by Rumbold (not from AYBS but his double), Poopeye and Proxy (Old Clapped out H3).
  We were soon to the first of many back checks with Rhum and J Arthur doing most of the checking. Birthing Pool by now had found another victim to talk to all the way round i.e. Prickly Nickers. Atilla led us over a railway bridge down down to Coxes Mill Pond.
  The aliens from other hashes, namely Hopeless, Atame and Proxy did not understand calling (like most of SH3 – Ed) and then we reached another check by a corn field.
  Most of this time we had the ubiquitous Mother Brown laying flour (obviously stolen from said mill) and so it became really a procession rather than a hash.

  Then a potato or tomato field hove into view before we hit the 1st of the roads. A cunning check on top of the bridge over the Wey fooled everyone and the actual route was through Rasha's Car Wash!!!!!
  Along the towpath again with a renegade but fit Lady Chatterley from GH3 who had an ersatz lover in the form of Rumballed who tried to keep up with her most of the Wey round and failed.
  LC knows Cynthia and Painful from GH3 who I have to admit I have known for 50 years (we were all born at the same time) but I am currently banned from said hash. [Ed – wonder why?!]
  Cheating now came upon a small truck discarded by Eddie Stobart and immediately grabbed it for his collection.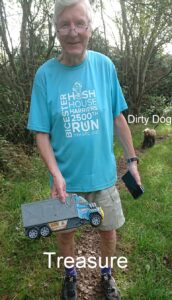 FRB then led us across a common followed by Three and Fourpence who informed me he had organised the Friday Hash. The name comes from the mishearing of
"Send reinforcements we are going to advance"
to
"Send three and fourpence we are going to a dance"
  Not a lot of people know that! [They do now – Ed].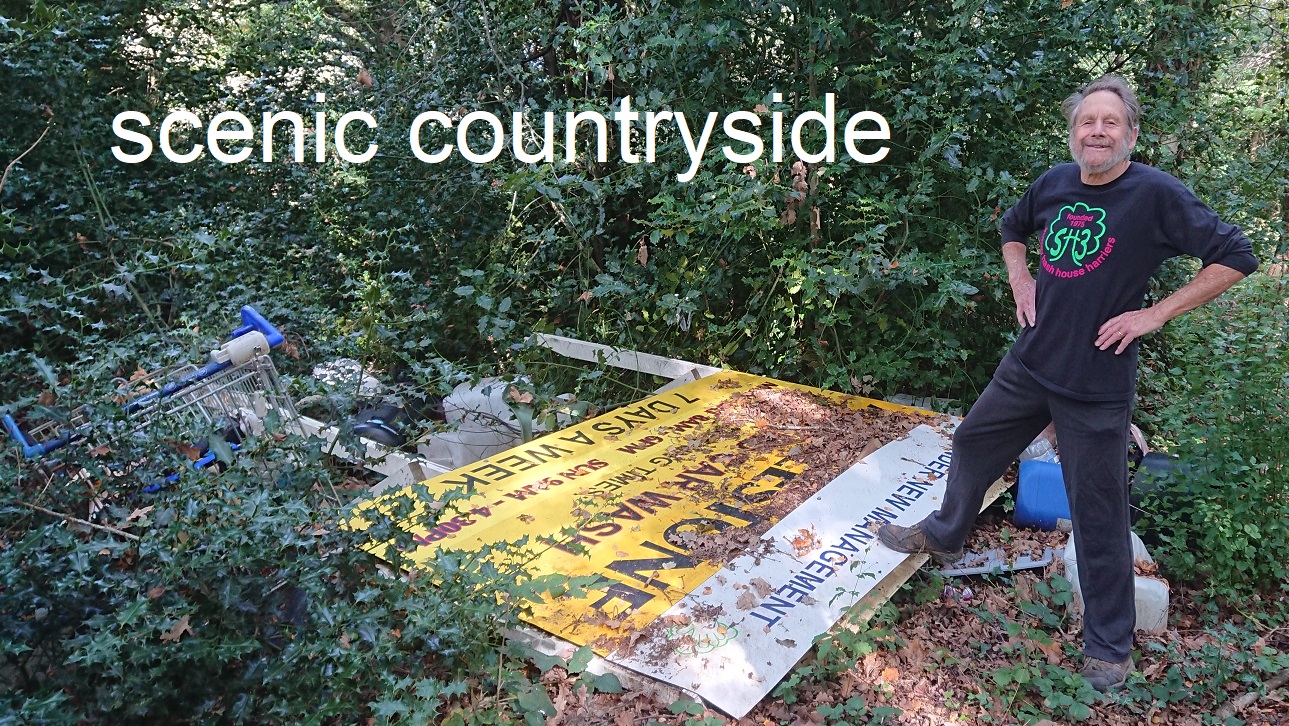 Another back check from a main road and methinks with all these back checks Mother Brown must be an osteopath [no that is a route taken by ostriches similar to a zebra crossing – Ed]. Then the dreaded Snaffles dove into a mud trench and came up as if auditioning for the Black and White Minstrels (that is now a hate crime – Ed – no that does not apply to dogs).
  Le Pet was rather dismayed and wondered how he was going to clean up the hapless hound to enter the pub – more of this later.  Another road (lucky Mon Oncle wasn't here) and Rhum headed off to the Top Golf Club.
  Soon we were in Master Bates Walk and landed at the home of the Flat Earther or Jurassic Park. How Tosser got here first nobody knows but Le Pet mentioned him being seen on a bus route – perhaps Cheating has been undone at last!
  Although Basta Mates has been of "laying" hashes close to his home for 70 years and losing everybody, this one was the same but it had been marshalled by the omnipresent Bother Mum and so only a few people got lost. Being a bon vivant he did what he is best at and provided Tequilla Sunrise (at 12 o'clock?) and other nibbles.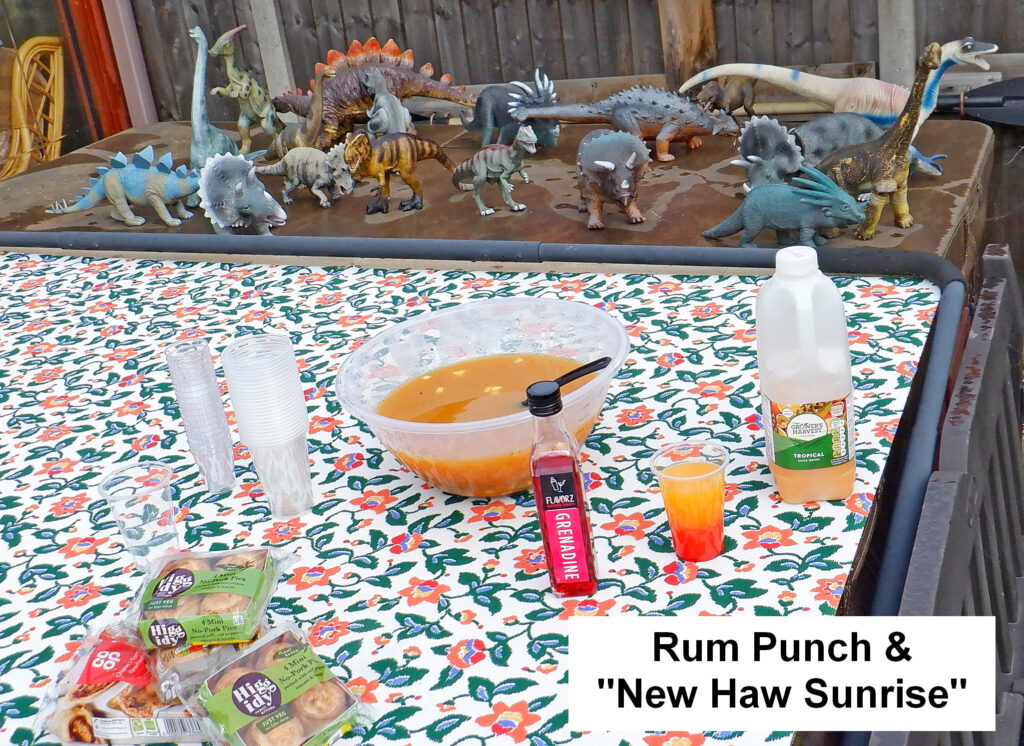 Snaffles was then put in the Worm Bath but it did not work and so a dunk in the Wey was performed.  By then back markers like Nickerless, Vicky, Prickly Nickers, Birthing Pool had arrived and Hopeless regaled us with descriptions of all the properties he owned around the world.
We were off off again over another railway bridge to see Poopeye pooped and he looked like a gnome sitting on a toadstool (no that is the joke about the wicked fairy – Ed).
  So LC, Proctor, Four and Ninepence, Rum continued on on.  At the Wey Island Trust Wally found another back check which allowed the others to overtake him.  Tosser was there again (it reminds me of the lorry in Duel) and he, THE Tosser was gloating about it.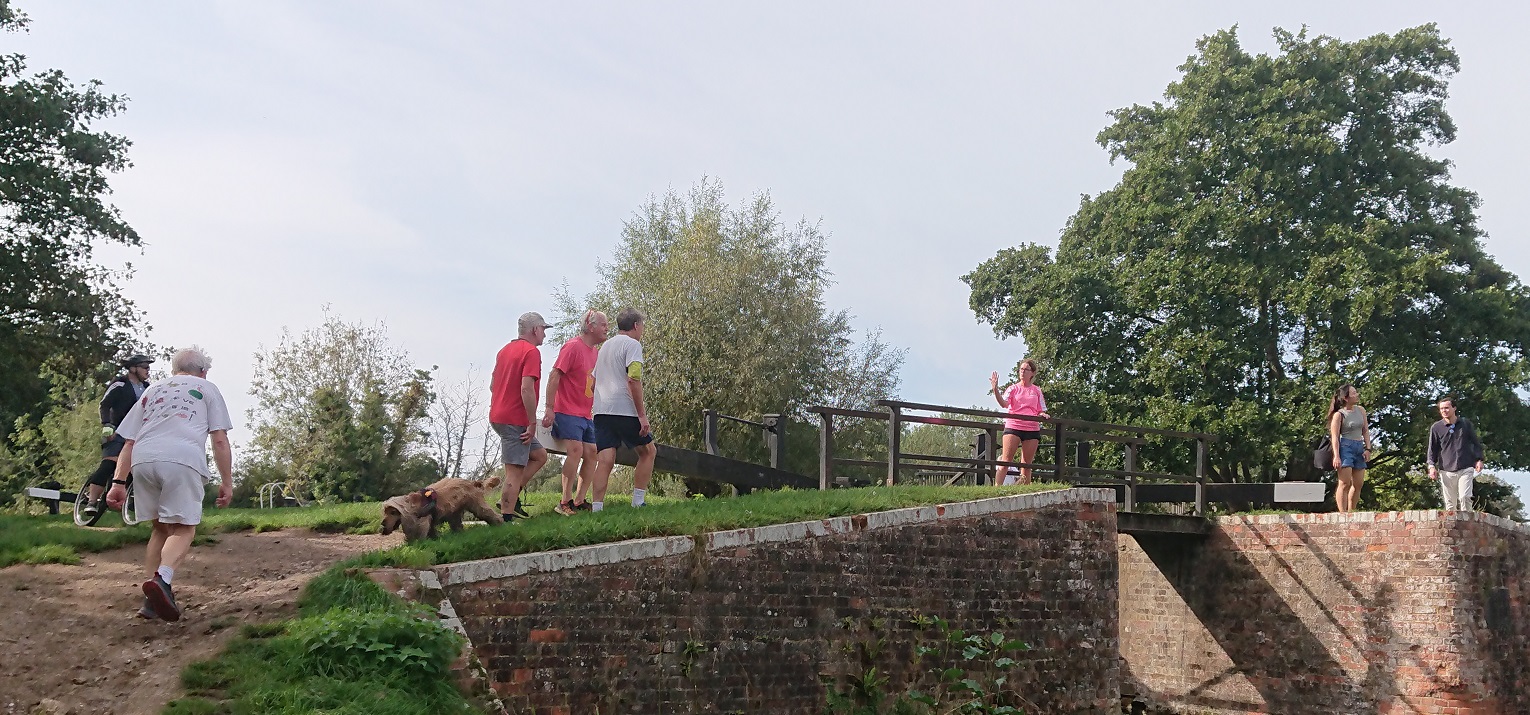 At this point Un Pro and I forged ahead (we made it out of plaster of Paris and thinks it would probably compete with Hirst's "The Physical Impossibility of Death in the Mind of Someone Living" or The Shark to the uninitiated but not the Slag's "Unmade Bed" but call Saatchi just in case.
  We were now in a mobile home park and I think based on E= MC2 the buildings must have been moving about as both Un Pro and I lost the will to live and did not spot yet another simple BACK check – I hate those things.
  Eventually we retraced our steps to the mill and waterfall.
Then it was ON IN except I somehow managed to arrive in Weybridge.
  I missed the hares being chastised but Poopeye was there with other downs downs.
  Down Downs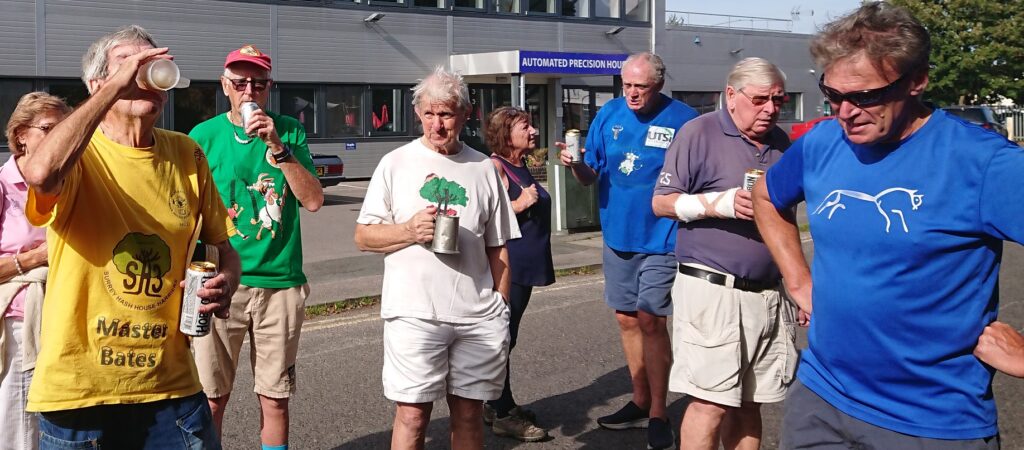 The Scottish invaders Un Pro and Pricky Wickly got one for being SNP members and friends of the Sturgeon and the Salmon and losing at the rugby.


Tuppence Halfpenny and Hapless for being aliens.
During this session a strange visitor with one arm had appeared namely Gerry At Tricks.
We had thought he had gone to fill a gas holder in Dorking as he had previously threatened never to go on a MB hash again. However, he could not resist turning up up afterwards and Gurning at everyone – in this case to Ipop's tale of reusing things to which he said "Like all your old jokes".
Stories from the Tories – for FRB
  The PM (permanently muddled) has dictated that we need to be heathier hence
To smoke or not to smoke
That is the question
Whether it is better for your lungs
To breathe in normal air
Or believe that ULEZ makes any difference
But perchance to vape and so inhale deeply in smoke ridden rooms
The taste of many fruity flavours
And to die 10 years earlier
  Also another new policy as he, for he is the PM for now has been fishing and caught nothing (too sub tall like Macron).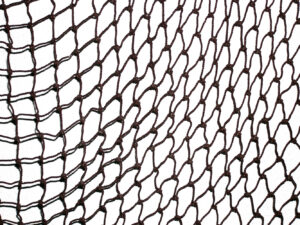 The aim is to leave this world before you have to change your petrol car for an electric one!
  And finally the train has come off the tracks – we are several trillion in debt and another 100 billion would have been small change according to Boris but we have been saved ever having to go to Manchester again.
  Anyway the quickest way now is by electric scooter but they are illegal and should be crushed and the owners fined £1,000.