Date:        1 October 2023
Hare:        Stevie Blunder
Venue:     Forest Green
On On:     The Parrot
Blunderbus v The Parrot (Piercys I ate)
People complained that the parrot was not a traditional one but a macaw –  let's not split feathers.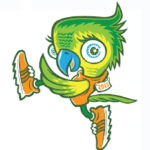 This was a trail of blundering, wondering and then thundering.

Runner Bean announced this as a live trail which is something Uncle Gerry would not countenance as he declares that SH3 is a social hash and only running hashes such as Weybridge or Berkshire would have any chance of catching the hare.
It started well enough with the FRBs namely Meesing, Chunderos, MB, First On and Too Posh heading across the green with Cheating saying this was the usual route – if Cheating ever says go this way immediately go in the opposite direction, but having said that he redeemed himself later on on.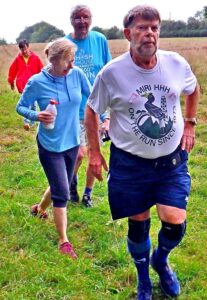 So the pack wheeled and Simple shot past me.  But who was this ahead grinning at the first check?   The Rank outsider who had met with a group leader – more of this later.
We climbed one of many stiles and were on up the long ascent to the Moon?  Here Rumbled and Blue Suit forged ahead.  The pack followed, albeit slowly, as climbs obviously are for mountaineers not Surrey Hashers – SBJ, Chastity begins at home, Master Bates, Knees Up, Burper, Birthing Pool, Chunderos, Hornblower.
The stiles all had doggy gates and some wicked hashers wanted Half a Quart to go through one!
We came to the first of the enigmas with Simple and Burper saying it must be this way and a bar indicating it went back but as Simple said how can you have 2 checks in a row and a bar check?
Too Posh now declared that she didn't do hills and could she have a flat or downhill route for the rest of the hash!
We were now into depth of the forest and the Etherley Farm Loop? – was Woody from Toy Story the real hare for this trail?
Runner Bean was standing by a hidden left turn with her electronic gizmo (don't they make OS maps any more?) and Mrs Robinson led the pack down down this.  Dormouse did his usual trip and Mother Brown and I discussed Rumballed listening to the golf all the way around the course today.  He said on his run the other week people were listening to the women's football – whatever that is?  I said that probably made it sound more exciting than watching it!
At last we could see a field again and there in front was Tosser – obviously as usual a strong case against him for massive short cutting but soon Rum, SBJ, Chastity Belt, Hornblower and Knees Up left him far behind.
Rumballed who was listening to the golf then stood in my line of sight and prevented me overtaking and being in the lead.
At least then some of the pack decided that running could be undertaken as we are not the Ramblers Association!
Mother Brown commented it was a ramble and a scramble through the bramble!
Then what hoved into view – a delightful, polite group of teenagers – I think I must have been dreaming.  They were on a route march with normal OS maps and were lost.
Rum and Runner Bean tried to show them the route on their gizmos but they could not understand or correlate it to their maps. Being the only one who uses paper maps and compasses, I had to stay behind and help them go south.
They were from the Chalfont School and I wanted to give them name checks but I think they thought I was a paedophile  [No sh** Sherlock!]  and declined.
Later I met the group leader who was looking for his lost souls and directed him using his OS map to their predicted location – this is based on my system of dead reckoning – nobody has been found dead yet that I know.
Then we were down down to a choice of R or W. R was obviously for Retrobates (these are people even older than Master Bates) and the W was for the wonderers – wondering where they were and how to get back.
We then came to a major schism as the main pack was effectively lost and I was sweeping up to find 2 strays the Rank outsider and Simple.
We ran along a field of swans which was even more surreal – I have never eaten Far Grass in my life!
I gave Rank a clue and he set off through the start of many brambles.
But a hero arose.  The dreaded Cheating had somehow got through it and led me and Doug the Pug to safety.  At this point the latter said I've had enough of this and headed downhill avoiding another irrelevant loop to the left.
I stayed behind and shepherded the dismayed pack on the final leg of the assault course.
But what was this?  We hit a main road with cars and motorbikes zooming along and no path by the side.  Potato was there with neither owner but fortunately 2 more heroes arose – Mother Brown collared our canine companion and His Knees Buggered attached one of his hallowed bananas to him.  I then had to hang on for dear life as Potato shot forward but I managed to get him down the said road and onto the grass verge where he headed for his irresponsible master.
The run was split into 3 main factions – the lost pack, Siamese Twins , J Arthur and Simple and a breakaway group which we lost early on Petal, Raffles, Masturbates, Hash Flash.
It was a case of everyone blundering about, wondering where to go and then thundering as to who the hell set this?
A special thank you to Strumpet for looking after my sister Vicky.
Down Downs
Rhum started with our hasher of the day Ellie
who did her down down to It's Alright but then Big Foot came up with a children's version that perhaps we should adopt [How often do we get children or any young people on the hash? – Ed].
Poopeye then stepped in as RA and awarded Chunderos for debagging the hare whilst Atlantic Ocean who only appeared after the run was there to watch.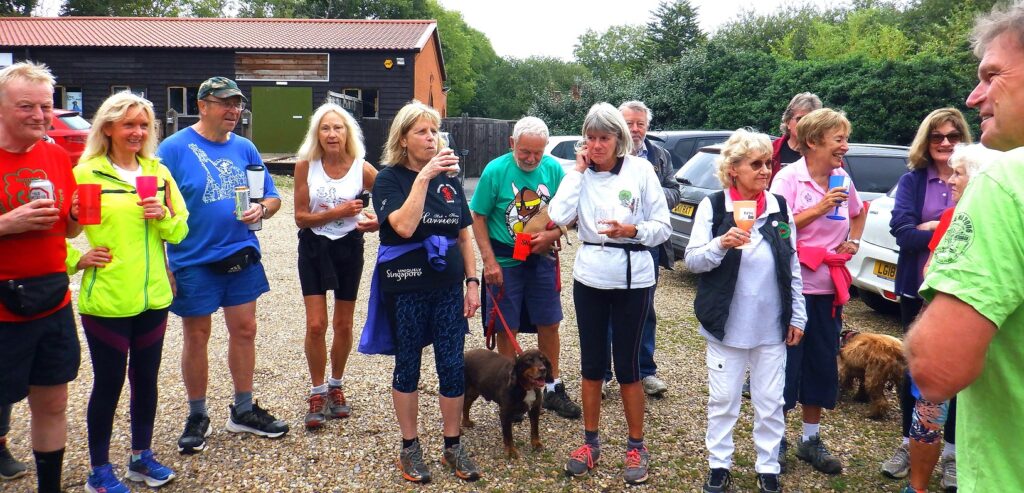 Also Mrs Robinson for arranging a trip to France for the rugby and finding out the French only allowed one pint of beer per person (rather like Marie Antoinette and let them eat cake – perhaps they should have drunk pints of wine!).
Anyway Doug the Tub was not happy.
Petal was regaled for opening the dog gate for Raffles and Half a Gill was given a down down for saying she would go through it because she is small but then didn't!!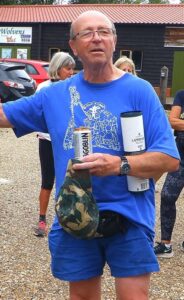 To Keel Over stepped forward – although he is quite backward and presented our great captain Atilla the Hun of the boat trip on a previous hash with a cigar and a bottle of starboard – well deserved. [Hear! Hear!]
Masturbates playing with his Organ!
This is something we always expected but had never seen.  He entertained us with a folk rendition of a tune written for Forest Green.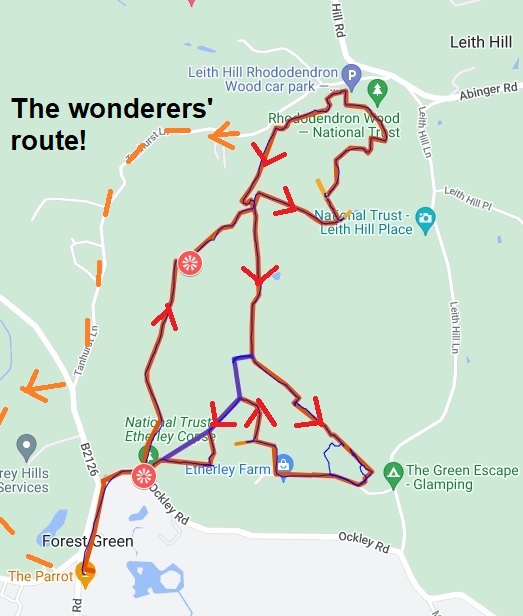 Trail Pieces (wise words from a world wide super hare
Trails should allow both walkers and runners to enjoy themselves.
Every trail should have fluidity that is open spaces for the runners to stretch out and areas which will not injure the walkers.
Today was an assault course which did not include those 2 prerequisites – there is still space on the famous hare raising clinics.
So we ended up with lost people, those doing half a trail and those giving up.  [Some of us suspected (incorrectly) a SNAFU when the trail turned back, so went out west.  Who in their right mind would lay a figure of 8 live trail?  Of course, it was a Stevie Blunder trail and he left his rucksack behind in the undergrowth as he hid waiting for the pack to pass.]
Lucky Uncle Gerry wasn't there.
We all love Potato (particularly chips).  He is a brilliant and self-reliant dog but even he cannot bounce off cars or motorbikes.
However as with Raffles and Petal any dog can run free in open country but when it comes to roads they endanger not just themselves but other road users and must be put on a lead.
 The hash should not be responsible for your dog.  Even in the car park someone said that he nearly was hit by a car and I have seen this in other car parks. To date luck has been on his side but an accident is an accident because it only happens occasionally.  Prevention is better than cure so let's prevent.  (Ran[t] over!)


Polly Ticks – for FRB
All MPs are paid enough or earn enough from other sources to afford the following
Heat Pumps – £10,000
Ugly. Horrible great things stuck on the outside of your house that need a special company to install.  They have proven to not heat your house in the UK winters to keep you warm enough unless you spend thousands more making it fully insulated like a giant thermos flask.
Electric Cars – £20,000-30,000
The National Grid cannot cope at present and do not have significant plans to cater for the huge demand needed.
It takes 5 minutes to fill your car with petrol – the minimun time for charging your car at a public site is 30 minutes.  Can you afford or want to hang around for that length of time. Are all the chargers in use?
Currently happy electric car users will not have huge queues at charging points as there are not that many electric cars.  Installing a charging point at home depends how your house or flat? is situated.
It only costs £1,000 but it is still extra cost and sometimes it is not possible.
The batteries require these minerals lithium, nickel and cobalt and there is a limited supply – so we stop using coal and gas and then we find we do not have enough of these minerals?
[PLUS – it seems that the rest us are cross-subsidising the insurance costs of these early-adopters.  John Lewis has just called time on it.]
The average car battery costs £5,000 to £10,000 and is guaranteed to last 8 years or 100,000 miles. If you sell your car before then, the prospective buyer has to know that they might have to buy a new battery at some point reducing the value of your car.
So maybe SH3 members have a spare £40,000 lying around but I do not – happy with any contributions?!
Why do all this?
We are a small nation producing a low carbon footprint – forget Ghengis Khan as he is a narcissist and would rather make money than save the lives of people in London by bringing back stop and search and sending anyone carrying a knife to prison for 5 years.
China will produce the most electric cars whilst polluting the world with their fossil fuel power stations!!!
Attendees (the register according to 'King Wally):
Blunderers
Stevie Blunder, Runner Bean
Pacemakers
Humpty Dumpty and Ellie, Simple
Rumbled, Rank Outsider, Poop Eye
Doug the Pug, Mrs Robinson
Belcher, Veggie Queen
Master Bates, 'Isnees, Chastity Belt
Big Foot, Meesing, Knees Up Up, Tosser
Cheating, Birthing Pool, Too Posh
Hornblower, SBJ, Blues Suit
Dormouse, Chunderos
Perambulators
Olive Oyl, Tequil'over, Arfur Pint
Lord Raleigh, Picky Nickers, Teddy Bear
'Ardon Provocateur, Tiller,
Sister Anna, First On, Low Profile
Real Hounds
Paddy, Bugsy, Raffles, Potato
Renegades – half course or less!!!!
Petal, Hash Flash, Masturbates
Atlantic Ocean, Strumpet
Vicky and Peter(pub only) – Wally's siblings
On On, 'K W