Date:        5 November 2023
Hares:      Velcro & Dormouse
Venue:     The Woodman, Ashtead
On On:     The Woodman
PLEASE TO REMEMBER THE 5TH OF NOVEMBER
  Nature provided our fireworks display, in the form of brilliant autumn colours on a bright sunny morning. Our hares promised us a 4 mile trail, and since we were back after 72 minutes this seems a good estimate; they also asked us to treat courteously the kindly cows, but these creatures remained out of sight. When we crossed the railway bridge for the first time (we returned by the same bridge) Fetherlite said that Barnes trails from Ashtead tended to use that route; this bridge was more or less the only height we had to scale.
  Ashtead Common is uncommonly flat. We were also promised shiggy, though not too deep, and indeed shiggy we found.
  The solving of checks was largely done by Kelinchi, with Pepper now fully recovered from being attacked; well, at least till Atalanta caught us up, at 11.45. [Ed: What? Pepper regressed?!]  Chunderos remained with the front runners throughout:, and One In The Eye was often there or thereabouts: Surrey can boast of its athletic females.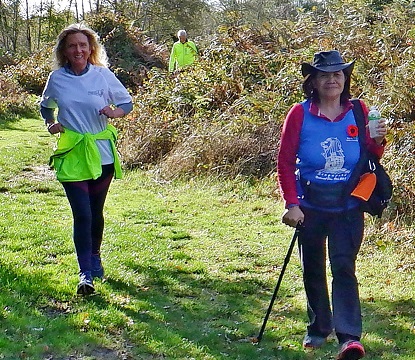 It was apparent early on that this would be a right hander, though Sir Ray expressed himself unconvinced by my saying so. The trail did at times zig-zag, going north again when we expected to be heading south, with CL expressing surprise, but good trails should not be obvious. This variety was a plus. The Common has few clear spaces, and so few views, but the trees were doubtless why the hares had taken us there today, to enjoy their foliage.
 This is a central and accessible venue, so we had a very good turnout, including Ratty and Red Eye, with Flash Gordon making a rare come-back, and a lady quite new to hashing.  (Ed: Miss Razzle?]  Teddy Bear elected to park on the road where we started and finished, and that is where we found him on both occasions.
  Our GM had family business to sort out: Hans der Schwanz was with us, but humbly declined to take her place, filled today by Speedy Humper, who made a point of celebrating the presence of Clever Trevor and Terminator.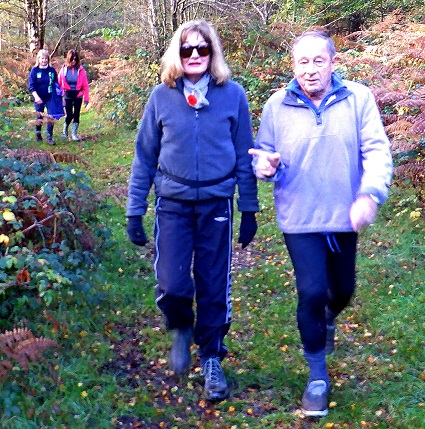 I am continually impressed by the fidelity of our non-runners (yes, Lord Raleigh and 'Ardon Provocateur were both with us).  Belcher as stand-in RA made a point of punishing Hash Flash for last week's 7 mile wet trail when "about 4 miles" had been promised.  So today made up for that.
  Governments pass laws which they hope will encourage people to vote for them. You may find this harmless enough, though unguarded comments can be revealing: Cameron discouraged Clegg from legislation which would benefit chiefly those who vote Labour. But what about people who do not vote at all? In recent years some 60 to 68% have voted in general elections, which means those not voting more or less equal those voting Conservative or Labour, and the major parties act accordingly; there is virtually no focus on the poorest in our society, those who cannot buy enough to eat, or pay their rent, or their energy bills.
  Poverty in itself need not mean misery. I have spent 11 years working in the tropics (Tanzania, Ghana, Sri Lanka) and know that people can be cheerful and relaxed on very humble incomes, partly because it is warm, but also because those around them are in the same boat, and there are extensive networks of family, friends, and neighbours to support them. In Europe and the States this is quite different, and the gap is bitterly resented. Our poor are alone and unheeded: 4 million people in the UK are destitute, but receive no political attention.
  On On, FRB
Sir,  Your chief correspondent reports that 4 million people in the UK are destitute and receive no attention.  However, the 100,000+  that we know about who have arrived by boat get plenty of attention and support!  Will they be given a vote too?  Time to find some more gunpowder perhaps?
Yours, etc.
R Sole
Me Ol' Mate,
FREE PARTY!
Please can you circulate around the hash?   The Barons are playing at the Surrey Cricketers on Sunday 26th of November (the address is 23 west street CR0 1DJ).  It would be really brilliant if we can get a bunch of hashers to come along.  It's a free gig which we will be videoing for promotion and set up a website to get more Groovy cats to book us.  The Gig will start at 6ish.
We were also thinking of a light show but that would involve the Hashers bringing their torches,.  We would supply the coloured film.
If you can come please let me know, the more the merrier and hope to see you there..
Parking in the surrounding roads and there is a car park under the flyover 5 min walk. Or by train East Croydon 8 mins walk away.  West Croydon approx. 12 mins walk.
Hope to see you there.  Be there or be square  On On Proxy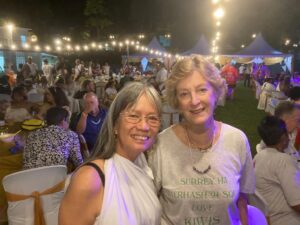 5 November 2023
Dear Raffles,  I managed to grab that infernal pen off your friend Uncle Gerry so here is a picture of me partying with Sim Campbell of the KL Harriettes and Petaling Hash.  Her son, Scott, his wife, Ioana, and daughter, Zőe, were with you at the pub today with Bigfoot & Meesing In Action. 
The handcuffs you gave me are proving useful in restraining Uncle Gerry.  Thank you.
On On, Peace & Love, 
Mrs G (aka Mrs Mole)